The Chess Story by Mike Callahan and David Edwards
The Chess Story
Last update: November 4, 2005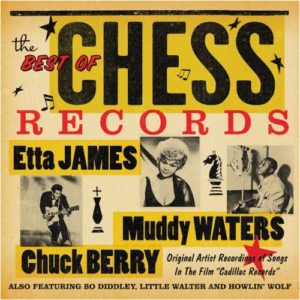 Brothers Leonard and Philip Chess were two Jewish immigrants from Poland who came to Chicago in 1928. They were involved in the liquor business and by the 1940's, they owned several bars on the south side of Chicago. Their largest establishment was a nightclub called the Macomba. The Macomba had live entertainment, many of those being blues performers that had migrated to Chicago from the Mississippi delta in the '30s and '40s. They realized that these performers were not being properly recorded, so they decided to start recording them themselves. In 1947 they entered into a partnership with Charles and Evelyn Aron in Aristocrat Records. The Arons had just formed Aristocrat Records to record blues, jazz and rhythm & blues.
The most important artist to record on Aristrocrat was McKinley Morganfield, who recorded as Muddy Waters and had several successful singles on the label in 1947 and 1948. He had migrated from Mississippi to Chicago a few years before and was working semi-professionally until he met the Chess brothers. Initially his records contained only himself, a piano and bass and his raw singing style reflected the spirit of the bars he played in. Through their connections with radio stations and local clubs, the Chess brothers were able to build Muddy Waters into Chicago's leading blues singer.
In late 1949, Leonard and Phil Chess purchased the interests of the Arons and became the sole owners of Aristocrat Records. On June 3, 1950, they reorganized the company and changed its name to Chess Records. Chess Records flourished in those early days of both rhythm and blues and independent record companies. Chess along with Atlantic, Aladdin, Specialty, Imperial, Modern and King were giving the public music that they could not get from the larger, established "major" record companies.
With the success of Muddy Waters, other young Mississippi bluesmen were drawn to Chicago, many joined Muddy's band. One of the most brilliant musicians to play with Muddy was Little Walter Jacobs, whose outstanding harmonica made the band even better. In 1952, Chess formed a subsidiary label called Checker, and Little Walter recorded in his own right for the label. His first release was an instrumental called "Juke" which topped the Rhythm and Blues charts. He was able to top the charts again in 1955 with the vocal "My Babe".
A young record producer in Memphis Tennessee named Sam Phillips was recording a 300 pound farm worker named Chester Burnette, who became known as the "Howlin' Wolf". At the time he recorded Howlin' Wolf, Phillips, who later established Sun Records, did not have a record company so he leased the Howlin' Wolf masters to the Chess brothers. "How Many More Years" backed with "Moanin in the Moonlight" was a hit in 1951. Soon, Howlin' Wolf migrated to Chicago and signed with Chess Records. In 1956, Chess was able to recapture the intensity of his earlier Memphis recordings with the hit "Smokestack Lightnin'". Howlin' Wolf recorded for many years on Chess and was one of the most influential bluesmen in history, his influence can be heard in the music of many of the young British and American blues players that became so successful in the '60s and '70s.
In addition to Muddy Waters, Howlin' Wolf and Little Walter, Chess recorded many other giants of post- war American blues such as Sonny Boy Williamson, Lowell Fulson, Memphis Slim, Jimmy Rogers, John Lee Hooker and Willie Mabon. Later, they recorded the next generation of Chicago blues artists with Buddy Guy, Little Milton and Koko Taylor.
In 1954, Chess recorded two black vocal groups, the Flamingos and the Moonglows, singing sentimental songs in styles that had appeal to the white record buying public, also. The songs were "Sincerely" by the Moonglows and" I'll Be Home" by the Flamingos. Before the records could become big hits, though, they were covered by white singers, the McGuire Sisters with "Sincerely" and Pat Boone with "I'll Be Home" who took most of the record sales. Even though they did not get the sales, the Chess Record company became known to record distributors as a company that could produce hit music.
In 1955, on a vacation trip to Chicago a young singer and guitar player from St. Louis named Chuck Berry met Muddy Waters, who encouraged him to see the Chess brothers. Chuck Berry auditioned for them with a song he had written called "Ida Red", Leonard and Phil liked the song but suggested a name change, the song was renamed "Maybellene" and became the first of his many Top 40 hits. With Chuck Berry, Chess Records had a singer whose sound could not be duplicated with cover records by white recording artists. Chuck Berry recorded for the Chess brothers for many years producing hit after hit. The songs he wrote and recorded for Chess include many of the signature songs of rock and roll; "Roll Over Beethoven," "Johnny B. Goode," "Sweet Little Sixteen," "Rock and Roll Music," "Memphis," "Brown Eyed Handsome Man" and "School Day" among them. He is one of the giants of Rock and Roll and was one of the initial 10 inductees into the Rock and Roll Hall of Fame.
Another singer/songwriter who could not be duplicated was discovered by Chess in 1955. His name was Elias McDaniels, who had moved from Mississippi to Chicago with his family as a boy. He auditioned for the Chess brothers with a song he had written called "Uncle John". Again, they liked the song but not the title, so McDaniels changed it to his own nickname, one that he had used as an amateur boxer, Bo Diddley. The Chess brothers signed Bo Diddley to a long term contract. His distinctive "Shave and a Haircut" rhythm was a staple on Checker Records for many years. His biggest hit was the self titled "Bo Diddley" backed with "I'm a Man" in 1955.
In 1956, Chess established a jazz subsidiary called Argo, and built an impressive stable of influential jazz artists like Sonny Stitt, James Moody, Yusef Lateef, Gene Ammons, Lou Donaldson, Lorez Alexandria, Ahmad Jamal and Ramsey Lewis. The catalog of albums on Argo was extensive. Even though Argo was primarily a jazz label, it also contains the work of Etta James, one of the finest female rhythm and blues artists ever, who is still making excellent albums today. In 1965 the name of the label was changed to Cadet, because of the existence of another record company called Argo in England.
Also in 1956, Chess began taking a bigger interest in music from New Orleans by signing veteran Paul Gayten to represent them there. Gayten brought them Clarence "Frogman" Henry who had a hit "Ain't Got No Home" in 1956 and "(I Don't Know Why) But I Do" and "You Always Hurt the One You Love" in 1961. Gayten also recorded Bobby Charles and Eddie Bo for Chess.
The Chess religious and gospel recordings are also extensive. Chess devoted an entire series to the sermons of the Rev. C.L Franklin, pastor of the 4500 member New Bethel Baptist Church in Detroit Michigan. They were also the first company to record his daughter Aretha Franklin, when as a teenager she recorded gospel music for the label. Their gospel catalog is almost exclusively contained on the Checker 10000 series and includes albums by the Five Blind Boys, Soul Stirrers, Alex Bradford and the Violinaires.
During the early years of the label, Leonard and Phil Chess did everything. They were the quintessential '50s record men: they owned the label, they produced the music they loved themselves and managed the financial end of the business. As the label grew, they gradually delegated more and more of the creative side of the business to employees. In 1959, they were able to hire the veteran producer Ralph Bass away from King Records in Cincinnati to serve as A&R Director. Bass continued to record blues, gospel, and rhythm and blues. He brought in a young black producer named Billy Davis who expanded the company into soul music, Davis revived the career of Etta James and turned her into Chess Records' first soul star. A group called the Dells, which had formed in Harvey Illinois in 1953 went back and forth between Chess and another Chicago label Vee Jay several times, but when they came back to Chess in 1967, they recorded the fantastic album "There Is" which contained six hits, "Oooo, I Love You", "Stay in My Corner", "Run For Cover", "There Is", "Show Me" and "Wear It on Your Face". The Dells recorded many more albums for Cadet but never again reached the pinnacle of the album "There Is". Billy Stewart, a native of Washington D.C. first came to Chess in 1956 through Bo Diddley. Stewart played piano and sang with Diddley's band. In 1962, Stewart returned to Chess with his unique vocal style, which involved a stuttering, rapid-fire explosion of words. He recorded a string of soul hits for Chess, including "I Do Love You", "Sitting in the Park" and "Summertime". Other soul hitmakers for Chess were Fontella Bass who had the great hit "Rescue Me", Sugar Pie Desanto, Mitty Collier, Jackie Ross, Little Milton, the Radiants, Laura Lee and Jo Ann Garrett.
Chess Records was the great American blues record company. There is a story we've heard, perhaps even true, that when Brian Jones first saw Keith Richards, he started talking to him because he noticed he was carrying a copy of Chess LP-1427, "The Best of Muddy Waters." Jones wanted to find out where he got it. When they formed a band, they named it after one of Muddy Waters' songs, "Rollin' Stone." The Rolling Stones later came to Chicago to pay homage to the company by recording much of their album "The Rolling Stones Now!" at the Chess Ter Mar studios.
The late '60s were banner years for Chess, which makes the decline and fall of Chess Records hard to understand. In 1968, Billy Davis, the producer responsible for much of the soul music output, left to join an advertising agency as music director, and Leonard Chess, the creative force behind the company became more and more involved in a radio station he owned, WVON. When Billy Davis left, much of the cohesion in the creative staff was lost and many other producers and songwriters left. Ralph Bass stayed, but most of the talent was gone. In 1969, Leonard and Phil Chess sold Chess to General Recorded Tape (GRT) for 6˝ million dollars plus 20 thousand shares in GRT stock. In October 1969, the company suffered a devastating blow when Leonard Chess died. Quality output declined, and by the summer of 1972, the Chess Chicago offices were almost empty, the distribution company and pressing plants had been closed, and only the Chess Ter Mar studio was operating with a few employees. By the summer of 1975, GRT was dismantling what was left of Chess. In August 1975, with all of the GRT record operations closed down, what remained of Chess Records, was sold to New Jersey-based All Platinum Records. Although originally intended to be run as an active label, shortage of capital reduced the great Chess Records to a reissue label. When the Chess building in Chicago was sold, the new owners brought in dumpsters and chain saws and destroyed 250,000 records that had been abandoned there. It's sad to think of all that great music; Chuck Berry, Howlin' Wolf, Little Walter, Bo Diddley, Etta James and Muddy Waters being hauled away to a landfill. Even though the records were destroyed, the master tapes survived and are now the property of MCA, which has rereleased much of the Chess material during the 1980s and 1990s.
Chess Records got into the long play record business relatively late, never having made any 10 inch albums as their contemporaries Atlantic, Aladdin, King, Imperial and Modern did. Their first album releases were in 1956 with several Argo jazz releases, all of them in the 12 inch format. The first album on Chess itself was the soundtrack of the movie "Rock, Rock, Rock", which came out in December 1956 and may be the first commercially released rock and roll motion picture soundtrack. Most of the black label Chess and Checker albums by their major blues and rock and roll stars are now very collectable and in demand. Even more collectable are a few of the early white label promotional albums which were pressed on multi-colored vinyl, those known to be available in this form are Chess LP-1439 and LP- 1441, Checker LP-2971 and LP-2973 and Argo LP-649. All of these were produced in 1958 or possibly early 1959, if anyone knows of any others please E-mail us with the information.
Also included with this Chess discography are three labels that were distributed by Chess. Tuff, a label that was formed in 1963 by Zelma Sanders in New York City that had one album, Neptune, a label owned by Kenny Gamble and Leon Huff of Philadelphia, and Heads Records.
This discography was compiled using Schwann catalogs from 1956 to 1975, Phonolog from 1963 and 1967, MCA order sheets, research in used record stores, and our personal record collections. The Michael Ruppli Discography of Chess Records was the source of information about unissued records and a few track lineups. We also recommend reading Robert L. Campbell and George R. White's fine history of Aristocrat Records, which is available on the web by clicking on the link.
We would appreciate any additions or corrections to this discography. Just send them to us via e-mail. Both Sides Now Publications is an information web page, and we have no association with Chess/Checker Records. Chess and Checker are currently owned by MCA Records/Universal Music Group. Should you be interested in contacting MCA or acquiring albums listed in this discography (which are all out of print), we suggest you see our "Frequently Asked Questions" page and follow the instructions found there.